INTERVIEW with Christine Konstantinidis, who speaks six languages and runs the blog ERFOLGREICHESSPRACHENLERNEN.COM.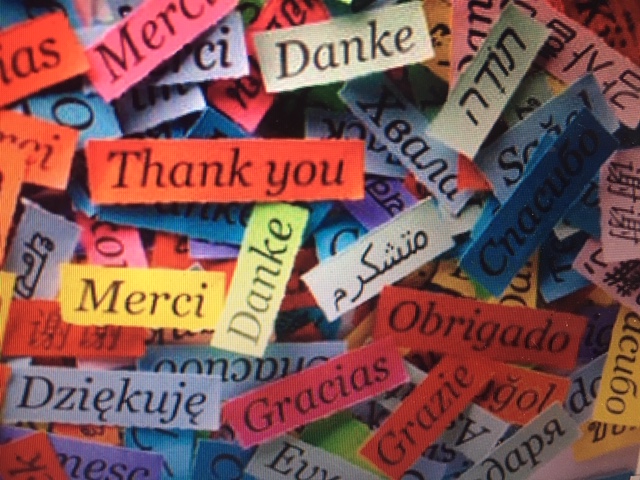 She also is the author of the book: "Sprachen lernen, tolle Tipps und Tricks – Kreative Methoden für Motivation und maximalen Erfolg" (2015). 
In PART ONE of the interview, Christine tells us something about herself and her work.
In PART TWO she talks about methods and the importance of grammar when learning a language.
I have added remarks (!) to each answer.
INTERVIEW PART TWO
Birgit:
Which methods would you recommend to someone who wants to learn a language in a fast and effective way?
Christine:
I recommend doing something for the language every day. Besides, you should try to train all four skills, so take care of listening, reading, writing and speaking. Of course, it depends on the objective. For example, someone who only has to understand written specialist texts can leave out the "speaking" part. But if someone wants to learn general language, it is important to practice all areas. An important aspect is to find the perfect method for you. If you like doing something, then you do not have to overcome yourself every time. You should also only learn with materials that you like, so try to read books and magazines on your hobby, for example. And for me the most important thing at all: contact with the country and the people and the integration into everyday life are the key factors of the learning. Surprisingly, many people have no idea what they can do for their English or other languages without a course or trip. They are then quite surprised what possibilities there are! In my case, at home, every room contains "language content": books, magazines, crossword puzzles, my Kindle, my cell phone, the computer – all sorts of materials that help me start learning immediately. Also, I have close contact with our friends abroad (of course also with those in Germany) and not only talk we regularly about Skype but see each other and have connection via WhatsApp.
! My remark: Language training comprises speaking, listening, reading and writing. Integrate the language into your daily life: watch TV, listen to songs, find someone on What`sApp you can communicate with. Make sure you are having fun learning the language !
Birgit:
How important, do you reckon, is grammar for learning a language?
Christine:
I think grammar is not the most essential thing in the world, but without grammar you can't speak and write well. I'm a big fan of situational grammar – which means that grammar is taught by me when you need it, no matter if it's the topic in the class or not. With the topic "family" I always teach the possessive pronouns/determiners (my, your, our …), with the topic "directions" it is the prepositions (up, in, to, to …). If you want to express your own opinion, for example, in Italian you need the Congiuntivo – so these two areas are linked in learning.
! I like the term SITUATIONAL GRAMMAR. I fully agree: make use of any daily situation in order to switch into the language you want to improve !
Birgit:
What do you like about Italian food and Italy?
Christine:
In my opinion, Italian cuisine is very varied; each region has its own specialities. Italy is also very diverse – and even more beautiful are the holidays there if you have friends or you can speak the language. These are real enrichments. Italy has great landscapes, from the Alps to the northern Italian lakes to Tuscany and the islands. The cities offer so much architecture and history! And my tip here is: We love to experience cities and regions going running there. This year in Rome we jogged three times and discovered so much more than the typical tourist.
Birgit:
What do you like about Austrian food and Austria?
Christine: 
I love to hike, preferably in the mountains! Unfortunately, Switzerland is very expensive, so for us, also because of the geographical proximity, Austria is an alternative. And there's nothing better than hiking to mountain huts and eating Austrian pastries like apple strudel or Kaiserschmarrn! The pastries are awesome!
Birgit: 
Be spontaneous: What do you think about Britain and British people?
Christine:
In the past, I was in the UK more frequently, mainly in London, but also in Cambridge, Oxford, Canterbury, Cornwall, Edinburgh and Inverness. Unfortunately, I have not had any contact with people from Great Britain for years, but when I hear people from there speaking, I always notice how much they are talking ten minutes about what they really want (Germans would say "yes" or "no"), and that they are extremely friendly – what  sometimes sounds a bit over the top to our German ears and sometimes puts a little strain on our German patience. I find the cities and landscapes in the UK very beautiful, I like the green, but also the modern and old architecture. My favourite places, however, were and are the bookshops! But, I have to admit, I love these in every country.
Birgit:
How do you communicate with your dog?
Christine:
Unfortunately, our dog died in the meantime. Since we travel a lot, we also decided not to take in a new dog here. But … the communication language with our dog was always German. 😊
But our children used to have to listen to different foreign languages – this was successful with our daughter – she studied French and Italian, but our son was more likely to fall on deaf ears.